Nishtar Hospital, Multan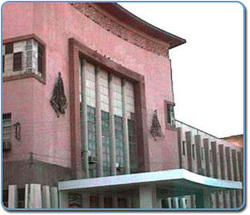 The Nishtar Hospital holds a total capacity of 1000 beds. There are 29 wards plus an Out Patients Department. There are 15 Operation Theatres. The construction of the Nishtar Hospital block started in 1953. The basic idea and it's plan was provided by Dr. M. J. Bhutta. He had already collected many ideas during his tour of U.K. by visiting many hospitals there. Mr. Inamullah, Mr. Jamaal-ud-Din and Mr. Murat Khan also participated in the construction On the 1st of October, 1953, Nishtar Hospital started functioning with 80 beds. In 1954, Medicine, Surgery, Gynaecology, Tuberculosis, Paediatrics, Ophthalmology, ENT, Anaesthesia and Radiology departments also started functioning. With the construction of the hospital building, many other buildings including the boy hostels, administration block, kitchen block.
Now,Nishtar Hospital Building is three story building.
Ground Floor
(Level one)
Nursing School
Hospital Auditorium
Post Office
Bank
Canteen
Ward No.(1,4,7,10) and (13,16,19,22,25)
Operation theatres
Kitchen Block
First Floor
(Level two)
College office
Hospital Administration office
Principal Office
Conference room
Ward No.(2,5,8,11) and (14,17,20,23)
Operation Theaters
Second Floor
(Level three)
Residency

Mosque

Mess

Ward No.(3,6,9,12) and (15,18,21,24)
Departments
Anesthesiology

Cardiology

Critical Care Medicine (ICU)

Dental Section

Dermatology

Dialysis

ENT

General Internal Medicine

General Surgery

Gynecology

Nephrology

Neurology

Neurosurgery

Obstetrics

Oncology

Ophthalmology

Orthopaedics

Pediatrics

Physiotherapy

Psychiatry

Pulmonology (Chest Medicine)

Radiology
---